Find Cheap and Luxurious
Accommodations in Makkah

Makkah accommodation is one of the biggest concerns when traveling to Mecca for Hajj and Umrah. You don't want to end up in a tent or stuffed into a room with five or more roommates, so it's important to start looking for quality hotels as early as possible. Some hotels will book up a full year prior to the next Hajj, so don't hesitate to book your accommodations as soon as you are fully committed to Hajj or Umrah.

If you're not traveling for pilgrimage, then you may have a much easier time finding accommodation that suits your lifestyle and expectations. You can work with an experienced travel agent to get suitable rates in hotels that are close to the Grand Mosque and other popular destinations.

Our Top 5 Suggestions for
Makkah Accommodation

: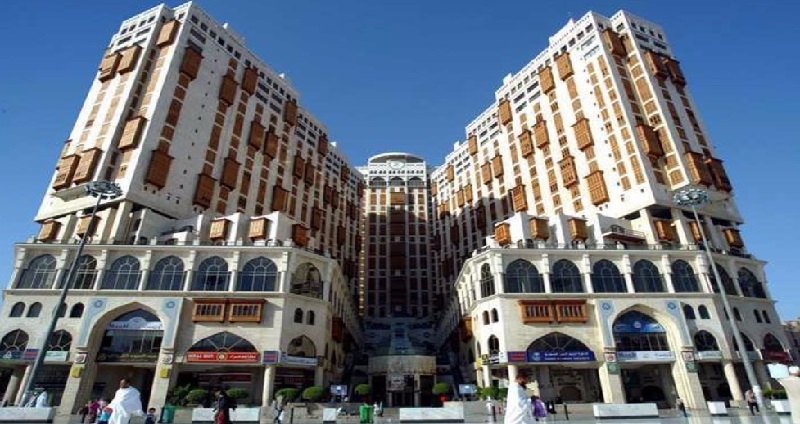 Following is a list of the most popular hotels, so you will know what to expect as you discuss accommodation options with your agent.

Jabal Omar Marriott Hotel Makkah
Marriott is one of the most trusted names in the hotel industry, so you may already know what to expect as far as the quality of rooms and amenities offered at their Makkah property. This Makkah accommodation has more than 400 rooms in the hotel, including more than 50 luxury suites. Both on-site restaurants offer views of Mecca, and you are within walking distance of most religious sites.
Amenities at this hotel include an air-conditioned prayer room overlooking the Haram, a large business center, meeting rooms, and a café that sells pastries and soda. The hotel also has parking spaces, which is a plus if you plan on renting a car or driving from another area of Saudi Arabia.
Hilton Makkah Convention Hotel
If you want to stay in luxury, you can't go wrong with Hilton. The Makkah property features a fitness center, business center, meeting rooms, rental offices, bar, restaurant, car rental service, gift and snack shops, lounge, news stand, and on-site shoe shiner. Makkah accommodation is a leading hotel for business travelers, so the hotel provides professional telephone, fax, and postal services. You can rent everything from cellphones and typewriters to paging equipment and secretarial assistance directly from the hotel. Parking is provided only through the hotel's valet service.
With nearly 700 hotel rooms, this is one of the largest hotels in Makkah. It's located a short drive from most of the holy sites, so it's a good location if you're planning a Hajj or Umrah pilgrimage. Some of the hotel's amenities include a fitness center, state-of-the-art meeting rooms that can serve up to 200 people, and a restaurant serving elaborate buffets with Arabic and international cuisine. Guests also have access to a café, so you don't have to settle for heavy buffet meals every day.
This hotel provides free parking to all guests, so you don't have to worry about finding space for your rental car. You may also want to take advantage of around-the-clock concierge services, which can help you make the most of your Mecca trip.
This Makkah accommodation is a Fairmont hotel that boasts 76 stories, making it one of the world's tallest buildings. It's the closest hotel to Kaaba and is one of the most popular options for Hajj and Umrah participants. The building boasts more than 1,500 guest rooms and more than 55 elevators, and nine restaurants. Each room includes air conditioning, Haram audio, interactive television, Wi-Fi, and a private safe.
If you need more discretion or personalized services, consider taking advantage of the Fairmont Gold program for elite guests. This will give you access to an around-the-clock butler, private check in and out, and access to the Gold Lounge with breakfast, tea, cookies and other refreshments at all hours. You even gain access to a deluxe meeting room when you go this route.
If you want to look out your hotel room window and take in panoramic views of Makkah's most exquisite holy sites, book a room at Raffles. It has a prestigious location in the heart of the city and will place you a short walk or drive from a long list of Hajj attractions. There are just 200 hotel rooms in this more intimate building, but you will get to choose from a few restaurants. You can also book services at the on-site spa to relax and pray in peace.
This hotel doesn't have the business resources that are offered by other leading Makkah hotels. It caters more to pilgrims in search of a quieter environment.
Now that you know where to stay in Makkah, it's time to think about prices and proximity to some of the biggest Mecca attractions. This is where you get to plan out your trip and start preparing for the experience of a lifetime. For the best results, consult with a travel agent approved to book Makkah travel packages.
Related Articles: