Things to Do in Makkah
Must See Attractions and Sights
If you're traveling to Makkah for Hajj or Umrah, you will want to visit some of the city's most important attractions and great things to do in Makkah.

There are still many other interesting places to explore and things to see, so make sure that you schedule an extra day or two to explore the rest of the city. If you're traveling for business or pleasure, the following list will guide you toward some of the must-see attractions of Mecca. You may also want to explore some of the surrounding cities for even more things to see and do.

Things to Do in Makkah - Must See 

Attractions and Sights

The Great Mosque of Mecca & Kaaba

Al-Masjid al-Ḥarām is the largest mosque in the world and the centerpiece of the annual Hajj. It was designed around Kaaba, which is an ancient sanctuary that Muslims face when they pray. The mosque is now large enough to hold up to four million people and is an ornate structure that causes many visitors to stop and stare in awe. You will visit this mosque and the Kaaba as you move through your Hajj or Umrah, but many businessmen and other visitors are drawn to it as well.

During Hajj, the great Mosque is extremely crowded during daylight hours. You will wait for hours to get inside to pray, and spending quiet time for personal reflection is difficult. If you wait to visit after dark, you will have a different experience with fewer people in attendance at that time.

Hira

Hira is a cave where Prophet Muhammad PBUH received his first revelations from Allah. You must hike up a mountain to get to the cave, and the dry desert climate makes the journey challenging even for those who are physically fit. Most people can make it to the top within three hours, and their reward is the spectacular views of the holy city.

If you decide to take the hike, make sure to bring water and perhaps some fruit or nuts to keep your body energized and hydrated. Prepare to go at a comfortable pace and to spend some time praying and praising Allah once you get to the top.

Mount Arafat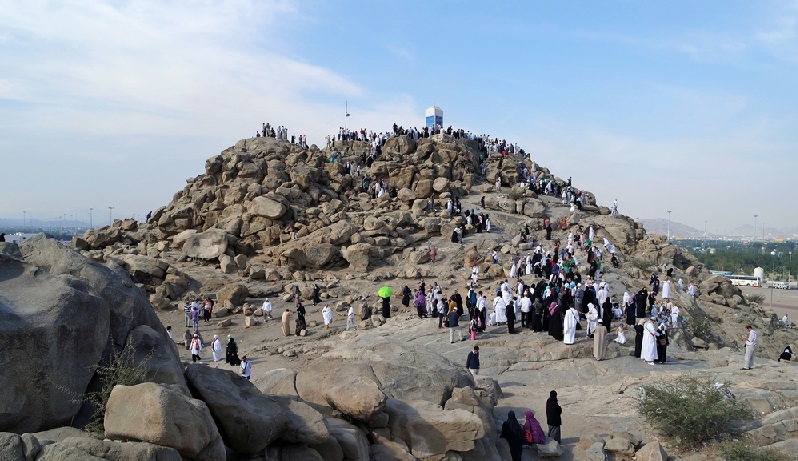 Also known as Mount of Mercy, Mount Arafat is a hill located just east of Mecca. This is the location where Prophet Muhammad was believed to deliver the last sermon of his life. This is one of the most spiritually rewarding events for many Hajj pilgrims. This is the land where we will all be resurrected.
Walking up the hill to visit this religious site is physically demanding. Make sure that you stay well hydrated and give yourself plenty of time to rest. This is a great place to pray even if you aren't on a pilgrimage.
Abraj Al Bait
One of the most popular things to do in Makkah, this tall government-owned skyscraper complex houses a shopping mall, an upscale hotel and a prayer room for Mecca visitors. Even if you don't stay in the hotel, it's worth finding the area just to see the spectacular structure, including the clocktower. You can also go to the top to look out from the observatory, which is located at the top tip of the skyscraper. You'll find this hotel close to the Grand Mosque.
 Jabal Thawr
This 4,610-foot mountain contains a cave in which Prophet Muhammad PBUH hid for three days. Many Mecca visitors climb the mountain to see the cave and take in the beauty of the Saudi terrain. If you take the time to review the story in the Quran, you will have a greater appreciation for the cave and your journey to the top of the mountain.
 Birthplace of Prophet Muhammad
This is one of the more sentimental Mecca attractions and things to do in Makkah because it allows visitors to see where Prophet Muhammad PBUH was born. You can visit the library and museum that now stands at that location, interacting with other visitors and learning more about the early life of Islam's most beloved Prophet. This is a great place to dig into the history of Islam to deepen your understanding.              
While it's tempting to take pictures of the magnificent sights of Mecca, don't give in to the temptation. There are very few places in this city where it's legal to take pictures, and there are serious criminal charges that you may face if you're caught. Consider this your opportunity to unplug from the modern world and focus on spiritual growth or quality time with your loved ones.
Articles Related to Things to Do in Makkah:
Makkah Travel – Getting to Mecca Safe & Sound